AOIFE HONOURED AT CIVIC AWARDS 2019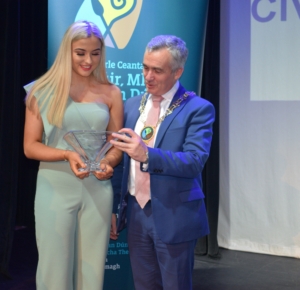 AOIFE TRAINOR HONOURED AT NEWRY, MOURNE & DOWN CIVIC AWARDS 2019
Among the 25 individuals/groups honoured at the Newry, Mourne & Down District Council Civic Awards on Tuesday night 16th April in Newry Town Hall was our own Aoife Trainor in recognition of her All Ireland Scór na nÓg Solo Singing title. The 15-year-old was introduced by Liam Hannaway (CEO of the Council) as the 'Best U16 Solo Singer in Ireland' for her rendition of 'Slan Abhaile' a tribute to her little sister who tragically lost her life three years ago. Aoife received an engraved Crystal Bowl from Chairman of the Council Mark Murnin before entertaining the audience with 'Slan Abhaile' and 'Ned of the Hill'. Aoife thanked all those who had supported her, Newry & Mourne for the Award and Gillian Fitzpatrick for nominating her.
Local man Jim Killen was also recognised for his role as Chair of Mourne Sheep Breeders Association and tribute was paid to his predecessor Clarence McKee who passed away recently. Other recipients were volunteers in some amazing local organisations, special achievers, those who went beyond the call of duty to assist or save the lives of others – a humbling experience to be in such company.
Following the formalities and photographs a delightful supper was provided by 'The Boulevard', Newry.
Many thanks to everyone for a great night.