CHARLIE'S CHOICE – GARY MCDONALD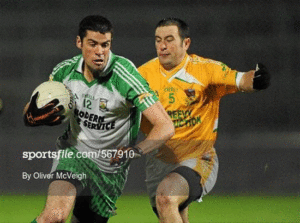 During these unprecedented times when everything is in lockdown mode Senior Footballer Charlie Carr came up with the idea of keeping Clonduff players in all codes in touch with each other and with the community – he is looking after this specific part of Clonduff Communications at this time – thank you Charlie!
Charlie's first Choice is the longest serving Senior Footballer in Clonduff – Gary McDonald
Name: Gary McDonald
Age: 38
1. When did you make your senior debut?
1999
2. Favourite position?
Right half back
3. Favourite pitch?
Clonduff Park
4. Childhood hero?
Ross Carr
5. What's your most favourite game you've been involved in?
Beating Kilcoo in 2010 championship
6. And a game to forget?
Too many to pick one
7. Biggest achievement in football?
Has to be league and championship double 2000
8. You can transfer in one player from across the country, who?
Ryan McHugh
9. And transfer one out?
Big Polo – man is too lazy
10. Who is the best trainer in the squad?
Darren O'Hagan
11. Who is the worst trainer in the squad?
Gavin McGreevy
12. Favourite manager you've played under?
Frank Dawson
13. Who is the managers pet?
Charlie Carr
14. Club volunteer of note?
PJ McGreevy
15. Best thing about Clonduff?
I look good in yellow
16. How would you like to be remembered in the club?
That I always gave 100%
17. If you could give one piece of advice to the youth, what would it be?
Always listen to your mentors
18. If someone told you 18 years ago that you'd be doing a pre season with your nephew, what would your response have been?
Are you away in the head? I'll be long retired.
Thanks Gary!