CHARLIE'S CHOICE – JOHN MURPHY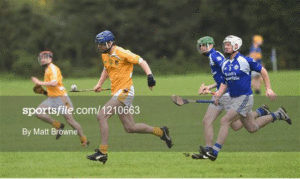 Charlie has chosen another long-serving exponent of his trade – this time Hurling.
Name: John Murphy
Age: 40
1. When did you make your senior debut?
1995 for Rostrevor. 2000 for Clonduff.
2. Favourite position?
Centre half back – on condition that the other 5 backs are responsible for marking the opposition's centre half forward.
3. Favourite pitch?
Casement Park – before the weeds took over.
4. Childhood hero?
Nicky English.
5. What's your most favourite game you've been involved in?
2018 Championship Final win – can't see that one ever being topped.
6. And a game to forget?
About 90% of them.
7. Biggest achievement in hurling?
Playing with the county seniors when they were still in Division 1A of the national league and playing against the likes of Cork and Clare every week.
8. You can transfer in one player from across the country, who?
Aaron Graffin – transfer forms all prepared, just need to get his signature in Macs some night.
9. And transfer one out?
Chrissy Young. He should be shipped to Australia.
10. Who is the best trainer in the squad?
Chris O'Hare or Christopher Hynes. First there and last away nearly every session.
11. Who is the worst trainer in the squad?
My solicitor has advised me not to answer that question.
12. Favourite manager you've played under?
Paddy Braniff – at the risk of getting dropped by the current manager.
13. Who is the manager's pet?
Sean Downey – never a word of slagging between him and the management…..
14. Club Volunteer of note?
PJ McGreevy – people really don't realise the unbelievable amount of work he has put in to keep the pitches in top class condition over the years.
15. Best thing about Clonduff?
Using fantastic facilities in a fantastic location with fantastic team mates.
16. How would you like to be remembered in the club?
That fella that used to play hurling who won the Euromillions.
17. If you could give one piece of advice to the youth, what would it be?
Perfect the basic skills and then work on being able to do them as fast as possible.
18. Having played hurling for Rostrevor and now Clonduff you've played with different generations of hurlers, who has been the best hurler you've played with in your career and why?
So many great players from both those clubs including Liam Boyle, Louis McNally, Paul Brown, Paddy Brannigan, Alistair McGilligan, Sean Curran, Jim Murnin and Rory and Paudie Matthews to name just a few, but the best I played with would have to be Anthony Tinnelly. He came to Rostrevor fresh from the Waterford U21s, where he had played with the likes of Dan Shanahan and Tony Browne, and his fitness and skills just made him stand out so much. He really raised the standard so much in Rostrevor and then later in Clonduff and was an all round great player and a great influence.
A great piece to read above, thanks John!