CHARLIE'S CHOICE – SHAY MURNIN – DUAL STAR FOR CLUB & COUNTY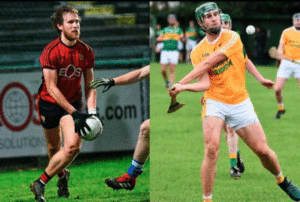 Name: Shay Murnin
Age: 26
1. When did you make your senior debut?
Football: 2013 vs Downpatrick. I actually tore my ACL a couple days later playing seconds, and again for u21s after returning the next year — so my second game ended up not being until over three years later in 2016!
Hurling: 2010 vs Castlewellan. I had 1-1 before the match was abondoned for a few fists being thrown. No names but the usual suspects were involved! I believe we got the points though.
2. Favourite position?
Football: Full-back
Hurling: Wherever I'm needed
3. Favourite pitch?
Clones
5. Childhood hero?
My grandfather Andy Murnin
6. What's your most favourite game you've been involved in?
2018 Down JHC final. Don't think I could've looked at a hurl for a long time if we'd lost that game. It meant so much to so many people.
7. And a game to forget?
2018 Ulster club JHC semi-final
8. Biggest achievement?
Playing for my county
9. You can transfer in one player from across the country, who?
Football: Brian Fenton
Hurling: Patrick Horgan
10. And transfer one out?
Football: Barry O'Hagan, sure he transfers most years anyway.
Hurling: Darragh Downey, has had a transfer request to Ballyragget handed in this past two years.
11. Who is the best trainer in the squad?
Football: Conor Og O'Hagan
Hurling: John Murphy
12. Who is the worst trainer in the squad?
Football: The keepers. They just kick amongst themselves most of the time.
Hurling: Bobo McPolin. Just wants to hit sideline cuts all day.
13. Favourite manager you've played under?
Football: Paddy Tally / Ross Carr
Hurling: Damien Farnon & Alastair McGilligan
14. Who is the managers pet?
Football: Charlie Carr 🤦‍♂️
Hurling: Sean Downey
15. Club volunteer of note?
Shout-out to the underage coaches, especially during this difficult period. Great to see all the skills videos being posted. Keep it up!
16. Best thing about Clonduff?
Our club participates at all levels in all codes within the GAA. The level of participation in Clonduff is something we should all be really proud of. We set the standard in our county.
*Although we'd be even better if we got this elusive ball wall set up!
17. How would you like to be remembered in the club?
A proud dual-player who gave complete respect to the jersey
18. If you could give one piece of advice to the youth, what would it be?
Accept the things that you can't control, whether that be a decision, a mistake, an injury or someone's opinion. Put your focus and effort to what you can control — and it starts with your attitude.
For any player who aspires to play football or hurling at senior level, look no further than Shay as an example of hard work, dedication and discipline as he continually comes back year after year after a series of career threatening injuries. It's easy to train as a team when you're training to play a game at the weekend but to do your own rehab to get back to the training field on your own takes serious commitment.
A great team mate for us all 💪
Thanks Shay!