ALL IRELAND INTERMEDIATE CLUB CHAMPIONS 2019
Heartiest congratulations to our Senior Camogie Team who defeated Gailltir (Waterford and Munster Champions) on score o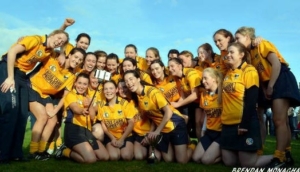 f 0-10 to 0-9 in the All Ireland Final in Croke Park on Sunday 3rd March 2019!
It was a bitterly cold wet day but none of the big Clonduff contingent were aware of it especially in the last few minutes which were really nail-biting! The three minutes additional time seemed like 30 minutes! But worth it!
Clonduff had stormed into a 5 point lead before the Waterford side got into their stride – at half time it was 0-7 to 0-5. There were two major talking points in the half – Fionnuala Carr gathered the ball outside the half-way line, turned and with probably the sweetest strike ever to grace Croke Park, she fired over the bar. Fionnuala was to the fore again when Gailltir were awarded a penalty – Fionnuala was the one on the line to block it round the post!
Clonduff got the first two points of the second half to move 4 ahead but again back came Gailltir scoring three in a row. Captain Fantastic Paula O'Hagan then fired over a long-range free but again Gailtir came back and they fought extremely hard for that elusive goal but with the Clonduff defence in mean mood that was not going to happen and it didn't!
The joy and relief among both players and supporters knew no bounds and it was an amazing sight to see your Club Name and Crest displayed on that big screen! Then it was back home (after the Senior Final which was won by Derry side Slaughtneil) – after a tour of the parish in the heavily falling snow it was into the beautifully decorated Clubrooms for the post-match banquet fit for Clonduff's first ever on-field All Ireland Champions.
Team: Karen Haughey, Nicola O'Hagan, Jenna Boden, Erin Rafferty; Sarah Murphy, Fionnuala Carr, Clare McGilligan, Paula O'Hagan (Capt), Clara Cowan, Isabella O'Hare, Orla Gribben, Katie McGilligan, Beth Fitzpatrick, Sara Louise Graffin, Cassie Fitzpatrick; Subs used: Elizabeth Wilson, Megan O'Reilly, Roisin Mulholland; Other Panellists: Niohmi Murray, Molly Brown, Shannon O'Hagan, Natasha Boyle, Niamh Fitzpatrick, Orla Morgan, Erin Lively, Caitlin Harper, Roisin McPolin, Hannah Wilson, Ally Magee, Kitty Fegan, Orla Morgan, Ursula Kearney. Team Officials: Damian Farnon, Alastair McGilligan (Managers), Ciarán Kearney (Goalkeeping Coach), Derek Dunne, Aaron Graffin (Coaches), Frank Quinn (Strength & Conditioning), Niamh Canning (Physio)