CLONDUFF VOLUNTEER SURVEY 2020 – COMPLETE HERE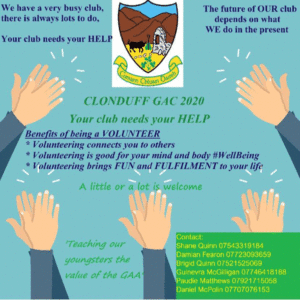 https://www.surveymonkey.co.uk/r/KYFZH8L
The response to our online survey has been excellent but if you missed it here's your final chance – it closes tomorrow Sunday 23rd February
WHY WE NEED YOUR HELP!
Clonduff GAC will field 38 teams and cater for almost 1000 members in 2020. Volunteers are the lifeblood of our Club. Your Club needs your help no matter how Big or Small.
Please contact one of the following advising where you would like to offer assistance, Pauidi Matthews, Damien Fearon, Daniel McPolin, Guinevra McGilligan, Bridget Quinn or Shane Quinn.
Here's our wish list – What could you put your hand to?
Missing Officers
• Field Officer
Social Club:
• Bar staff
• Ordering items (Cleaning items (toilet rolls etc), kitchen essentials e.g. geezer)
• Monitor Takings
• Create Programme for home game
• Organise Float
Games:
• Referees in All Codes
• Match Officials – Linesmen & Umpires
• Referees Board Rep
• CCC Club Rep
• Co. Board appeals club officer
• Match stats
• In-house referees
• First Aid and other medical expertise
• Nutritionist
• Goal keeping coaching
• Organise/ help with Guest coaching days
• Senior Players/Management to assist with Underage Coaching
• Gym equipment
• Strength and conditioning coaching
• Monetary collection at tournaments
• Making Sandwiches on a rota basis
• Gate collectors
Pitches:
• Grass cutting
• Pitch Marking
• Clean/tidy dressing rooms
• Gathering litter (weekly)
• Stewarding for matches hosted in Clonduff (parking etc)
• Games officials
Fundraising*:
• Selling Down GAA Club Tickets
• Organise last man standing
• Organise Golf Classic
• Selling FOC All-Ireland Ticket raffle
• Selling FOC half time draws
• Weekly Lotto sales (Counters/sellers)
• Be a member of Fundraising Committee
• All fundraisers require advertising to include posters and social media outlets / Some may require sponsorship / Banking duties Club Shop:
• Order gear
• Staffing Events:
• Organisation of caterers
• Setting up Clubrooms for events
• Promotion of Events
Club Maintenance:
• Bins (Leave bins to road)
• Clean footpaths Health and wellbeing:
• Create access to/ greater awareness of counselling
• Adult/Juvenile Player Welfare Officer
• Follow-up on Injured Players
Clubroom Maintenance:
• Clean clubrooms – monthly big clean (hoovering, dusting, toilets, bins)
• Function set up
• Match – Make tea/sandwiches
• Empty bottles from bar
Other:
• Further promotion of the club, Social Media, Website, Weekly Notes, etc
• Making Lidgementd
• Attending courses to work towards Club Maith/5-year plan
• Washing Kits
NB: If you think we've left something out and feel the club can benefit from your help in another area please let a committee member know.