CLONDUFF SET DANCING CHRISTMAS PARTY 2019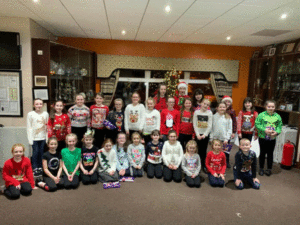 Many thanks to Joseph, Jayme, Keith, Wendy and Elaine for the fun, games and goodies at their Christmas Party on Thursday evening in the Clubrooms. This is the last class practice until the New Year. The children took the opportunity of presenting a cake to Elaine whose birthday it was on Thursday.
Happy Christmas to all the children and to Farrell Family for their ongoing commitment to and love of Set Dancing!