SUPPORT YOUR CLUB – SUPPORT YOUR COUNTY – AND WHAT A RESPONSE 2020!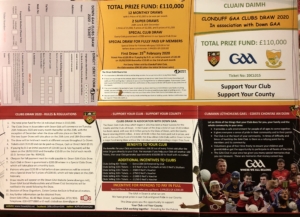 At the close of play on Tuesday night 18th February 2020 an incredible 434 Down Draw tickets had been sold! This generates an amazing £39,360 for Clonduff Club and earns us a £1,000 O'Neills voucher!
Grateful thanks to all who purchased the tickets demonstrating your support for YOUR CLUB and YOUR COUNTY! There was a great team of sellers on and outside the Executive Committee who pulled out the stops particularly in the last few days! THANK YOU VERY MUCH INDEED! The driver behind the success of this venture in Clonduff is our coordinator Jamie Fegan and thanks to his great skills of persuasion, coercion and cajoling he kept everyone on their toes right to the last second. 'THANK YOU JAMIE' does not adequately convey our gratitude!
Well done to all concerned – we now just wait to reap the rewards!