THREE COUNTY SCÓR NA NÓG 2020 TITLES FOR CLONDUFF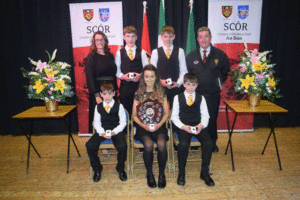 Clonduff's All Ireland Solo Singer Aoife Trainor got proceeding in St Patrick's College underway on Sunday with her rendition of Amhrán na bhFiann and the first competitors on stage were the young Clonduff Ceili Dancers who gave an almost flawless performance but were pipped at the post by a very good Mayobridge team. Clonduff's next competitor on stage was Brian McGreevy who, as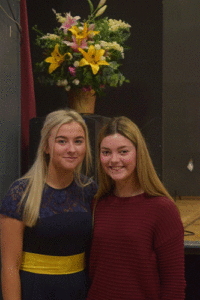 defending County Champion had finished in 3rd place in the South Down Final last week but automatically became eligible to participate due to Jacks illness – he was declared the winner! Clonduff's next act was the rejigged Novelty Act who put on a fantastic performance despite the setback of Jack's illness. Then it was the 'Battle of the Bands' in the Instrumental Music – Darragh Cross, Clonduff, St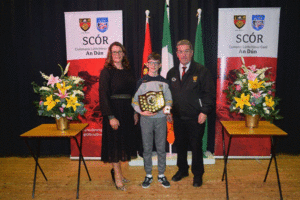 Paul's and Cumann Pheadar Naofa – Clonduff just edged it to claim the title. The penultimate act was the Set Dancing in which two Clonduff teams were competing against each other and Mayobridge – the Clonduff Ladies team retained their title. The final act of the night was re-formatted Quiz in which Aghaderg,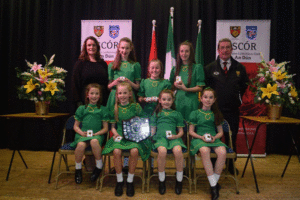 Clonduff,and Mayobridge participated having qualified at the Table Quiz on Friday night. It was a good closely contested final with Mayobridge taking the title by the narrowest of margins. Our three County winners will be back on the same stage in two weeks' time in the Ulster Semi Final. Many thanks to the volunteers who has helped prepare our 78 youngsters for Scór 2020 competitions which began back in early November and have been continuing every weekend since. A big thank you also to the parents for supporting the cultural activities in Clonduff Club – without your support we would not have three County Titles for the second year in a row!
Brian and the Instrumental Musicians qualified for the Ulster Final – Well done to all our young people whether you reached this stage or bowed out in the first round! Hopefully see most of you back again for 2021!