'PUC ABOUT' CLONDUFF STYLE 2019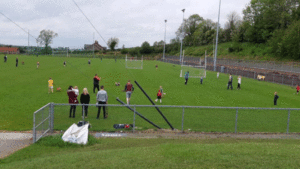 This is what a 'Puc About' looks like in Clonduff!
We had the first of our weekly Puc Abouts on Saturday evening 25th May 2019 with children and adults having some fun and playing the Ancient Game. This is the perfect opportunity for the children to play alongside our Senior Hurling team members and pick up new skills whilst having fun!
We will go again next Saturday at 5:30pm and each Saturday during the summer. This is open to all ages and abilities so come along and join us next Saturday for a bit of Craic!!