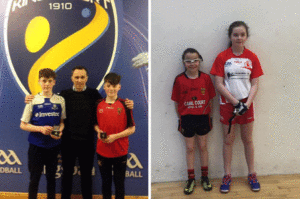 Clonduff youngsters AGAIN clinch SEVEN COUNTY TITLES, equalling their 2016 haul and will represent Down in the Ulsters coming up in February – Clodagh Kelly (U12S), Ellen Shields (13S), Éveagh Kelly/Ellen McKay (U13D), Patrick Cowan (U14S), Paudie Clancy (U15S), Lauren Kane (U15S), Conor Milligan (U17S) – Great achievement!
Patrick Cowan was narrowly defeated in Ulster Final; Clodagh Kelly also reached Ulster Final but found her much taller opponent too much of a handful. Many congratulations to coaches Colin Shields, Kieran Kelly, Eddie Clancy and Sean Cowan. Patrick and Clodagh are pictured here with their Ulster Final opponents.
In early February 2017 six new Handball coaches – Sean and Patrick Cowan, Conall Gribben, Eddie Clancy and our first ever female coaches Ella McCumiskey and Tierna Savage gained their formal coaching qualifications..
By clonduffgac1887
Mon 29th Apr