A CLONDUFF CHRISTMAS 2021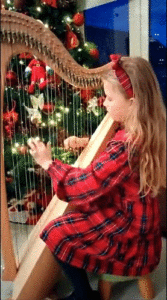 Once again, Christmas has come upon us in the most difficult of times and as we get ready for the festive season, Caroline McGreevy, the Clonduff Club Cultural Officer, has organised some outstanding Christmas entertainment treats for our friends near and far.
In the week prior to Christmas Caroline collected, collated and uploaded videos of musicians, reciters and singers depicting the 'Spirit of Christmas'.
Entertainers were: 9-year-old Louisa Gribben (Harpist), 13-year-old Shannon Copeland (Singer fresh from her Late, Late Toy Show appearance), 10-year-old Darcy Malcolmson (Singer), Former All Ireland winning Solo Singer Aoife Trainor, 15-year-old singer/pianist Niamh McSherry, Vivienne Mulcahy (Senior Church Choir), 11-year-old trumpeter Tom Smyth, 13-year-old Caoimhé-Aine Hart (Harpist), INF Christmas Trad Session, Annika Blackwell, Singer from South Carolina with local connections, 15-year-old Lónan Mac Domhnaill (Guitarist), teen Musician sisters Rachel and Elizabeth O'Hanlon, Musicians/Singers Siobhan, Thomas, Shea, Michael, Patrick and Rose Magee, Colleen Walls member of Senior Church Choir and Belfast Gospel Choir, 16-year-old singer Grace Clancy, Well-known singer/songwriter Matt McGinn, Brother/Sister act Kayleigh and Jordan McPolin and a special video compilation from the 'teenies' singing, reciting, story-telling. A truly amazing programme!