ALL IRELAND DOUBLE SCÓR NA nÓG WINNERS 1993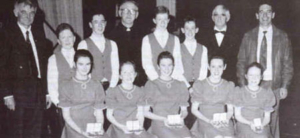 Clonduff entered the Record Books when they became the only Club in the history of Scór na nÓg to win both the All Ireland Ceili and Set Dancing titles on the same day, using only a total of nine dancers! The same eight Set Dancers had won the All Ireland title in 1991.
The children are: Back Row (l to r) Kevin óg Fitzpatrick, Jayme Farrell, Francis Quinn, Keith Farrell. Front (l to r) Elaine Hillen, Caroline McShane, Andrea Gribben, Lisa Parr, Joleen Parr. The children are flanked by their mentors Sean Hillen (left) and Joe Farrell (right).