CHARITY CHEQUE PRESENTATIONS AT CLONDUFF GAA CLUB 2020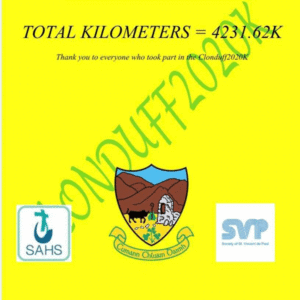 During Lockdown a few people thought it would be a good idea to set up a '2020 Challenge' to help out a couple of local charities. The '2020 Challenge' was the brainchild of Seamus Parr, assisted by Sheenagh Walsh, Charlie Carr, Karen Rice and Anita Brannigan in the hope that Club and Community would 'come together' to 'travel' (walk, run, cycle, swim) 2,020 km from 1st-5th July and raise the equivalent amount of money for the selected charities – Southern Area Hospice and the St John's Conference Hilltown branch of St Vincent de Paul.
Targets were far surpassed with 4,231.6 km 'travelled' by 143 participants and the fantastic sum of £3,200 was donated! A wonderful achievement in such a short space of time during these strange and challenging times. Thanks to everyone involved in any way!
On Tuesday 18th August representatives of both charities met with representatives of the organisers at Clonduff Club for the handover of the proceeds. Bernie Byrne of Southern Area Hospice accepted the cheque for £1,600 and Matt McGinn accompanied by Paddy Morgan of St John's Conference accepted a cheque for a similar sum. Clonduff Club was represented by Anita Brannigan (Chairperson), Karen Rice (Assistant Treasurer), Sheenage Walsh (Events Co-ordinator) and Seamus Parr (Event Organiser)