CLONDUFF ANNUAL POC FADA 2020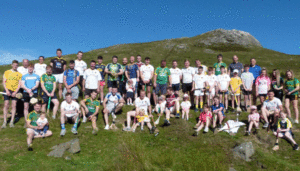 The annual Poc Fada on the Hen Mountain took place on Saturday 8th August in glorious conditions. The prize on offer was the magnificent Peárce Branagan Cup. The large crowd of participants were given a briefing by course designer Damian Farnon before the juveniles set off with their first strikes up the mountainside followed by the adult contenders. A flock of sheep cordially made their way off the route of the flying sliothars. Several groups of Hill Walkers stood and admired the spectacle of activity as the lead group made their way around the Southern Tor of the Hen. At this point some debutants made ill-judged efforts to go over the Tor rather than around and their sliothars lost ground as they bounced off the rock face and rolled mercilessly back down the mountainside.
Several experienced campaigners knew the shortest route better than a horned ewe and when it came to the halfway point at the top there was a lead group on 11 pocs. The downhill half of the course starts from on top of the Eastern Tor at which point some people engaged in light refreshments. With the sun beaming, the downhill strikes were travelling long and a favourable bounce always gained ground. As the final group passed the finishing flag at the sheep pen the final counts were collected. A group of 5 adults had finished on 17 pocs, just one more than the course record of 16 held by John Murphy and Rían Branagan. The final 5 were Sean Downey, Rían Branagan, Lorcan McAteer, Lorcan Branagan and John Murphy.
A play-off ensued and each of the 5 contenders hit one strike back up the hill with the longest declared the winner.
The eventual winner was John Murphy, a multiple time winner reclaiming his title from last year#s winner Rían Branagan.
In the juvenile section (U16) the boys and girls had a great day around the course. The eventual winners were Rosie McPolin in the girls' section while the boys' section finished in a tie between Niall Murtagh and Shaun Rice.
The presentations to the juvenile winners and the Peárce Branagan Cup to John Murphy was made by Tony Branagan.