CLONDUFF CHILDREN AT DOWN ACTIVITY DAY IN CROKE PARK 2016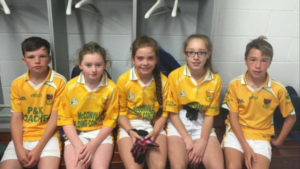 (L to R) Max Dursely, Cellagh Byrne, Evéagh Kelly, Caoimhe McKeown, Adam Fegan
All Down clubs were invited to send five youngsters to Croke Park for the U12 Activity Day on Tuesday 16th August 2016. The boys' names were put into a hat and two drawn out – Max Dursley and Adam Fegan. The same happened for the girls with Eveagh Kelly's and Aoife McKeown's names being drawn out. For the fifth place both sets of names were put into the one hat and Ceallagh Byrne's name was selected.
It was an early start for the children on Tuesday morning – they had to be at Croke Park for 9.30. The Clonduff youngsters were paired with Bryansford for the games which they thoroughly enjoyed. The morning's activity ended with a guided stadium tour before being returned to parents/guardians who had grandstand view in the Cusack Stand. Many thanks to the Down Development Manager Conor O'Toole for organising this magnificent morning for our children.