CLONDUFF GIRLS ON SUCCESSFUL ULSTER TEAM 2007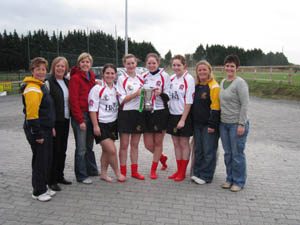 Not quite Croke Park but the next best thing!
Four Clonduff girls helped Ulster win the first Gael Linn (Interprovincial) competition in 40 years (2007). Pictured in Blanchardstown, Dublin with the Gael Linn Cup are Maura Quinn, Eileen Hamill, Ursula Quinn, Moya Maginn, Karen Gribben, Fionnuala Carr, Sara Louise Carr, Kitty Fegan and Teresa Carr.
The Ulster girls, bereft of their own strip played in the Derry strip.