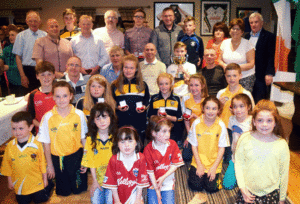 The Clonduff Contingent at County Handball Awards 2015 in Clonduff Clubrooms with Guests of Honour DJ Carey and Michael 'Ducksy' Walsh
There was a full house in Clonduff Clubrooms on Saturday 27th June for the annual County Handball Awards with special guests of honour from Kilkenny DJ Carey and Michael 'Ducksy' Walsh. DJ has two World Handball titles and 40 All Ireland Hurling an Handball Awards; Ducksy has nine World and 140 All Ireland Handball titles – both men, who are still going strong gave inspirational insights to sporting careers – great role models – thanks to Down Handball for holding the Awards in Clonduff and affording Clonduff people the honour of hosting these two great legends.
Clonduff had their most successful ever year in Handball during 2015 particularly at juvenile level – the female winners are Clonduff History Makers! The recipients of Awards were as follows:
Patrick Cowan – U12 Boys 40×20 & One Wall Singles Champion
Jayme McDonald – U13 Boys 40×20 Singles Champion
Shane Close, Daire Lavery – U13 40×20 Doubles RU
Paudie Clancy – U14 40×20 Singles RU
Aodhan Quinn, Ben Magee – U14 40×20 Doubles RU
Conor Milligan – U15 40×20 & U16 One Wall Singles RU
Lyndon Brown – U16 40×20 Singles Champion
Lee Murnin – U17 40×20 & U18 One Wall Singles Champion
Ella McCumiskey – U12 Singles One Wall Champions & 40×20 RU
Orlaith & Aoife McCusker – U12 40×20 & One Wall Doubles Champions
Eve Matthews – U13 Singles 40×20 RU
Shane Murray – Jun 40×20 Singles RU
Sean McNally – One Wall Plate RU
Des McNeill – One Wall Junior Champion
Clonduff Harps – One Wall Jun League Champions – Kieran Kelly, Nigel McPolin, Conor Milligan, Lee Murnin, Jim Murnin, Conal Gribben, Des McNeill, Patrick Cowan, Sean Cowan
Clonduff Shamrocks – One Wall Jun League RU = Chris O'Hare, Shane Murray, Niall Quinn, Jayme Lynch, Eddie Clancy, Ryan McShane, Jayme McDonald
Well done everybody!
By clonduffgac1887
Mon 29th Apr