CLONDUFF LADIES ARE U18 LEAGUE CHAMPIONS 2021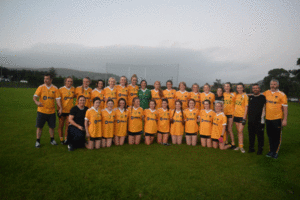 Kilcoo 4-5 Clonduff 1-17
This was the final game of the league and Clonduff and Kilcoo were sitting joint top of the table both having lost just one game all season – Clonduff's loss was to Kilcoo by a single point in Clonduff Park. So this was always going to be a ding-dong battle and so it proved to be.
Right from the throw-in Kilcoo gathered the ball and it ended up in the Clonduff net. But no panic! The Yellas moved upfield and put over five unanswered points. And that was the nature of the game. Kilcoo got goals but it was the point-taking prowess of Clonduff that won the day for them – some great long-range points from play and the accurate free-taking of Orlaith McCusker.
Kilcoo led at the break 3-2 to 0-9 and they had moved out to a 4 point lead at the final water break. After that break the Yella girls came out full of determination and grit, putting their heads in where others wouldn't dare, putting on a powerful exhibition of Ladies Football. The midfield and backs were resolute and never let the ball past Clonduff's 45 and the forwards scrambled home their goal and shot over 4 points to take the league title with twice the number of scores of the home side, and creating history as the first Minor Ladies League ever won by a Clonduff team. Fantastic performance.
The unbridled joy of the girls, management and supporters was testimony to the hard work put in from Day 1! Parents and supporters gave the girls a standing ovation as they came off the pitch.
If anyone wants to share their personal photos of the celebrations at the end please WhatsApp them to Anita on 07720062073 or Sheenagh on 07746136585 and we will endeavour to upload all of them!
Team: Niamh McGivern, Caitlin Devlin, Aoife McCusker, Blaithin Shields, Una Fearon, Éabha Ní Dhomhnaill, Erin Morgan, Ellen Shields, Orlaith McCusker, Emily Bingham, Niamh McConville, Grace Clancy, Deirbhile Devlin, Tierna Savage, Eve Matthews, Kylah Kearney, Laura Close, Naoimh Gilbey, Anna Henning, Cliodhna Murthagh, Aimee Murtagh, Cara Savage, Lily Rafferty, Evie Lyness, Evéagh Kelly.
Hard luck on Ella Beth Rooney, a stalwart of the team, who missed out on this game due to personal reasons. See you soon Ella Beth!