CLONDUFF MUSICIANS ENTERTAIN AT CO-OPERATION IRELAND GALA DINNER 2013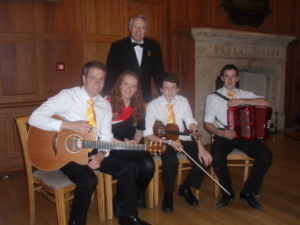 Co-operation Ireland is an organisation that promotes Peace Building across the island of Ireland. The theme of the 2013 Gala Dinner in The Great Hall at Queen's University, Belfast (Thursday 10th October) was 'The Role of the GAA in Peace Building'. The keynote speaker was First Minister Peter Robinson. The event was attended by GAA players and administrators, politicians and business people from across Ireland. Funds raised on thevening will go to support Co-operation Ireland's Youth Leadership programme which tackles the growing vulnerability of our young people in being coerced into criminal and anti-social activities in towns and villages across the island. Co-operation Ireland's Youth Leadership programme encourages positive local interaction with their own community, an opportunity to take up high quality work placement, receive experienced mentoring and deliver positive outcomes for themselves personally and their local community in general
The Clonduff group played as guests were arriving for Champagne Reception and throughout the evening at various intervals – they were initially to play for 10-15 mins but ended up playing for over an hour – speaks volumes for the quality!
Our musicians, pictured above with Martin McAvinney President of The Ulster Council are (l to r) Paul Kelly, Mary Catherine Murray, Thomas Kelly and Sean Murray. Well done folks you did Clonduff, Down and Ulster proud!