CLONDUFF REFEREE TAKE CHARGE OF ALL IRELAND MINOR FOOTBALL FINAL 2016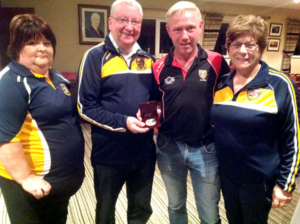 Clonduff Referee Ciarán Branagan is presented with a specially commissioned medal on Friday 16th September 2016 to mark the occasion of him taking charge of his biggest game to date – the All Ireland MFC Final Kerry v Galway.
He is the first Club referee to receive such an honour.
Ciarán, pictured with Club Officers Lorraine Bloomfield, Jimmie Cousins and Anita Brannigan in Clonduff Clubrooms.