CLONDUFF SET DANCERS IN RTE RECORDING STUDIOS 2010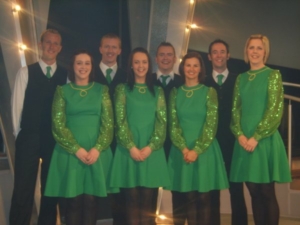 Clonduff Mixed Set Dancing team were invited to participate in TG4's 'An Jig Gig' to be screen in Autumn 2010. On Thursday 27th May 2010, the eight dancers (pictured above on the An Jig Gig set – Jayme, Wendy and Elaine Farrell (Joe and Irene's son, daughter and daughter-in-law), Francis, Ursula and Niall Quinn (Maura and Jerry's children), John Cunningham (Peter and Goretti's son) and Joleen Morgan (Joe and Eileen Parr's daughter) and Joe Farrell, as their mentor, set out for RTE Building in Donnybrook Dublin to rehearse and record the show. Later in the morning a bus load of supporters set out for the studio. There was only a maximum of two minutes to showcase their talent so they performed a specially adapted and choreographed version of the 'Cavan Reel'.
Recording began about 2 15 pm and concluded about 4 45 pm – Clonduff were the 9th act out of 10 on stage and they danced brilliantly and got great comments from the judges. Unfortunately only one of the ten acts was progressing to the quarter final stage and it wasn't our team but they were in good company as a young man, who is a current world champion in his age group didn't make it either!
It was a wonderful experience for the supporters as well as for the dancers – they got to see exactly how a show is put together. What will be screened in under an hour took two and a half hours to record!
Look who supporters Jerry Quinn and Anita Brannigan ran into outside the recording studio – Micheál Ó Muírcheartaigh!