CLONDUFF TALENT SHOWCASED ON NATIONAL TELEVISION 2021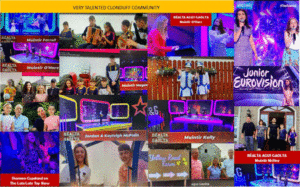 Clonduff is an amazingly talented community – but that is not news to anyone! We all know that! However, in 2021 so much of our local talent had the opportunity of a lifetime to showcase what they had to offer on either RTE for TG4!
Shannon Copeland started it all off in March when she and her Mum appeared on 'Donacha's 2 Talented', she followed that up in May with TG4's 'Junior Eurovision' where she had to perform as Gaeilge and she finished off the year with two spots on 'The Late Late Toy Show'.
As a direct result of Clonduff Club's pre-Easter Lockdown entertainment which was videoed and uploaded to FaceBook, a representive of TG4's 'Réalta agus Gaolta' (Performing Families) contacted the Club inviting the families who took part to audition for their show – seven families took up the invitation and all of them made it through to the recordings which were shown from October-December. The families involved were:
The Farrell Family – Joe, his son Jayme and Jayme's daughters Erin and Grace
The O'Hare Family (1) – Anne and Kevin and their daughter Naoimh
The O'Hare Family (2) – sisters Lishín and Derarca
The Magee Family – siblings Thomas, Michael, Shea and twins Rose and Patrick
The Kelly Family – brothers Paul and Sean and sister Bronagh
The McPolin Family – sister and brother Kayleigh and Jordan
The McSloy Family – parents Shane and Rosaleen and children Darragh, Callum and Michaela
Well done to all of you – you have done yourselves and your community proud!