CLONDUFF U12 LGFA MAKE IT FOUR IN A ROW AT WARRENPOINT TOURNAMENT 2019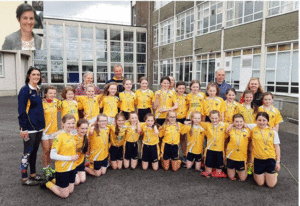 Clonduff U12 LGFA brought a great weekend of juvenile activity to a successful conclusion by taking home the Geraldine Trainor Memorial Cup from Warrenpoint on Sunday morning, 9th June 2019 for the fourth time in succession.
The Warrenpoint Tournament is organised with each club fielding two teams – an A and a B team – the scores are added together to produce the winner.
Both teams were evenly balanced and all 25 players got lots of football fighting for each ball, supporting each other, showing great skill, determination, team play and tenacity especially from the newest footballers, some of whom have only been playing for a matter of weeks. The teams were captained by Niamh McConville and Lily Rafferty respectively. Some of the Clonduff girls are dual players and had been to Trim, Co Meath on Saturday for the Regional Camogie Feile and are totally committed to their club – Clonduff.
All the mentors are very proud of the girls' performances, commitment and discipline, and wish to acknowledge the great support along the side-line by the very positive parents.
The team and their mentors are:
Back row (Mentors): Sinead McKeown, Marie Grant, Marty Woods, Jackie Gilbey (partially hidden), Kevin O'Rourke, Mandy McClean and inset Marie Cowan
Middle row(l to r) – Aiobheann Dursley, Ruby Binks, Abi Hannaway, Laura Woods, Elle Woods, Anna Morgan, Lily Rafferty, Niamh McConville, Brianna McClean, Grace Kelly, Leah Murray, Iona Grant, Eimear O'Rourke
Front row (l to r) – Rosie McCoy, Amy McEvoy, Clare Green, Anna Rose Carvill, Zara Kelly, Anna Crosbie, Cadhla Gilbey, Alana Fitzpatrick, Therese Cowan, Caoimhe McConville, Hannah Shields; missing from photo – Cara Savage (injured), Laura Kay, Ashlinn Byrne