CLONDUFF U21s IN B CHAMPIONSHIP FINAL 2019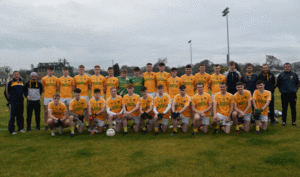 Clonduff U21 Footballers had a pretty good season, short though it was tagged on at the end of the Senior Football season. They comfortably won their first game but lost the second which saw them into the B Championship. They won their next game to reach the Final v Bryansford in Liatroim.
Clonduff got the first score of the game but then Bryansford struck with two goals. They Yellas held their shape and their nerve and went in level at the break 1-5 to 2-2. Bryansford blitzed Clonduff in the first 8 mins of the second half with 1-4 without reply. Clonduff did get into the game after that and held Bryansford to 2 further points but despite enjoying the lion's share of possession they couldn't turn possession into scores. Final Score: Bryansford 3-8 Clonduff 1-7.