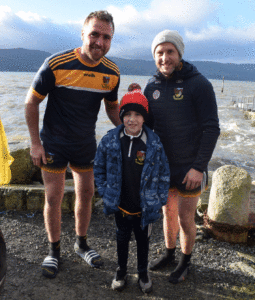 A big crowd of hard souls and spectators turned up at the Slipway in Rostrevor in 26th December 2022 to assist with the Fundraising for Wee Ollie Farrell's life-changing surgery in Turkey. The Dip, organised by Arthur McConville on behalf of all Senior Codes, was to have taken place on Christmas Eve but due to unforeseen circumstances was rescheduled for 12.30 on Monday 26th December two days ahead of Ollie travelling to Turkey. Boy was it cold! But it was not raining or snowing!
Arthur, Darren O'Hagan and Ollie did the countdown – and well done to all who supported Ollie, who is one of our juvenile players.
After the dip the Wilson Family provided hot food for all and Sheenagh Walsh provided a fabulous 'warming drink' – both of which went down very well indeed!
By clonduffgac1887
Wed 4th Jan