EASTER 2015 – ANNUAL CAMOGIE CAKE SALE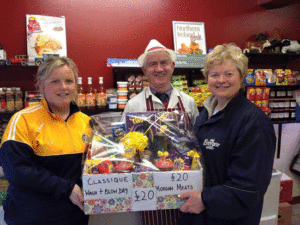 A big 'thank you' to everyone who baked and/or supported the Camogs annual cake sale on Easter Saturday morning – your time, effort and support is very much appreciated. Thank you also to the Colm in Morgan's Butchers for hosting the hamper and to all who sold tickets for the hamper raffle. Congratulations to Alistair McGilligan who was the lucky winner of the hamper.
Easter Hamper Draw – l to r – Kitty Fegan (winner), Colm Morgan, Guinevra McGilligan in 'The Butcher's!