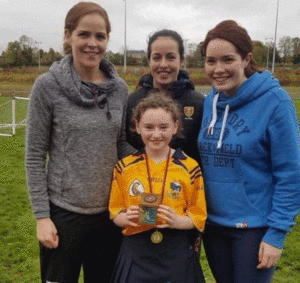 Five years ago (15th Oct 2017) the little girl in this photo met her heroes when they presented her with the Club's U12 Camogie Player of the Year award.
On Saturday 17th December 2022 she was that diminutive full forward who scored a cracking point in the first half, now starring alongside her heroes!
Meet the Emerging Star that has emerged – Ceallagh Byrne with Fionnuala (Carr), Cassie (Fitzpatrick) and Sara Louise Graffin!
By clonduffgac1887
Wed 21st Dec