END OF SEASON CELEBRATIONS FOR CLONDUFF U14/U16 GIRLS 2019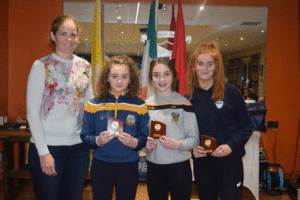 The Clonduff U14 and U16 Camogs and Ladies Gaelic players celebrated the end of their season in style on Saturday 30th November starting with an exhilarating outing to 'Vertigo' in Belfast Then it was back to Clonduff Club for Pizza and Presentations.
The presentations started with Ceallagh Byrne, U14 Camogie Captain making a presentation to their managers – Guinevra McGilligan, Colin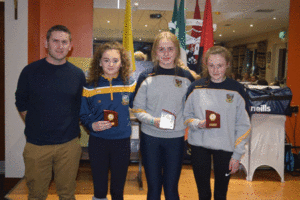 Shields and Ollie Morgan – on leading them to the League and Championship double in 2019. Newly crowned Ulster Senior Camogie Player of the Year Fionnuala Carr presented the medals to the team followed by individual awards for attitude commitment (as all Clonduff Juveniles Awards are) to Ceallagh Byrne, Amy Morgan and Grace Clancy.
Many of the same girls were involved in the U14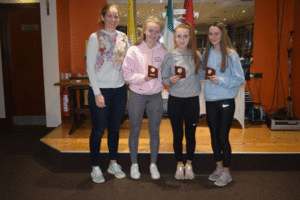 LGFA team who won a Sevens Tournament and had a good run in both the League and Championship. The individual awards went to Ceallagh Byrne, Ella-Beth Rooney and Emily Bingham-Abbot.
The U16 teams also had a great many dual players. Again, Fionnuala presented the individual awards to Ellen Shields, Katie Morgan and Orlaith McCusker.
The U16 LGFA team reached the final of the Championship and after the presentation of their medals the individual awards were presented to Ellen Shields, Rosie McCann and Aoife McCusker. For reaching the final a set of training tops, sponsored by Floortherm (represented by Kieran Kelly presenting top to Captain Rosie McCann) and Mourne Windows (presented by Majella Kelly to Anna Henning) and the evening concluded with the team and their mentors posing for a photography modelling their new tops.
Many thanks to all the parents and mentors in both codes for their support and commitment throughout the year – greater things await in 2020!