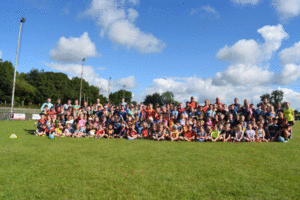 The final day is the highlight of all Cul Camp activities when the skills and team work have been honed. The 160 boys and girls across selected age ranges joined together in a fierce rivalry with their regular team mates.
Six teams – Donegal, Derry, Tyrone, Armagh, Mayo and Kerry competed for the junior bragging rights; Down, Armagh, Kerry and Dublin fought for the senior bragging rights.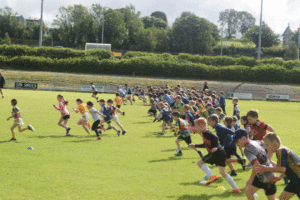 Kerry and Mayo reached the final in the Junior competition with Kerry just nailing it by a single point!
Dublin and Armagh contested the Senior final with Armagh emerging victorious over the Dubs.
Many thanks to 'the real referee' Willie Fitzpatrick who took charge of both finals. Thanks also to the wonderful coaches, some home, some visiting, who imparted their skills and knowledge throughout the week and a special word to Clonduff's Young Volunteers – James Matthews who attended every day and to Laura Close and Lily Rafferty who also attended. And thanks to 'the Man Above' for a great week weather-wise!
Roll on next year!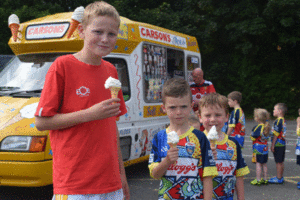 BIG TREAT ON FINALS DAY!
Many thanks to Bernard Branagan and Anthony Grimes for sponsoring ice cream for every child and coach for a fabulous lunchtime treat on the final day of what was a magnificent week in every respect! It was much appreciated by all before they got stuck in to the All Ireland Semi Finals!
By clonduffgac1887
Sun 7th Aug