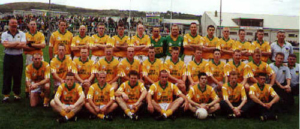 Clonduff's first Frank O'Hare Cup winning team since 1980! They defeated Liatroim by ten points.
Johnny McAleavey was the goalkeeper in 2000 – he was also the goalkeeper when Clonduff won their previous County title in 1980!
Back (left to right) Frank Dawson (Manager), John Morgan, Plunkett McConville, Cathal Murray, Marty McAvoy, Paul Shields, Tony Wilson, Alastair McGilligan, Johnny McAleavey, Paul McShane, Seamus Morgan, John Fegan, Jayme Farrell, Mark O'Reilly, Martin Farnon (Selector). Middle (left to right) Ross Carr (Captain), Stephen Branagan, Damian Fearon, Paudie Matthews, Paul McConville, Eugene O'Hagan, Shane Ward, Damian Smyth, Eugene Branagan, Mark Matthews, Rory Matthews, Brian McGreevy (Selector) Tommy Kelly (Team Administrator). Front (left to right:) Sean Fegan, Marty Farnon, Liam McGreevy, Sean Curran, Jamie Fegan, Francis Quinn, Gary McDonald.
By clonduffgac1887
Mon 6th May