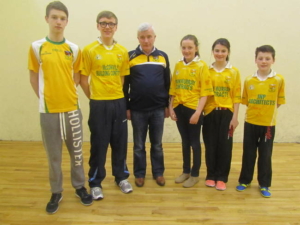 (L to R) Lyndon, Lee, Clonduff Chairman Brendan Murray, Erin, Clara, Patrick
This has to be one of the best ever County Championships for Clonduff Juveniles – three for the boys and one for the girls!
U12 Boys Singles – Patrick Cowan
U15 Boys Singles – Lyndon Brown
U16 Boys Singles – Lee Murnin
U14 Girls Doubles – Clara Cowan and Erin Rafferty
What a wonderful achievement! Clara and Erin have made Handball History in Clonduff by becoming the first females ever to win a Handball County title!
Hard work does pay! Well done everybody including the mentors! These young people now progress to represent Down in the Ulster Championships in two week's time! Good Luck and keep up the hard work!
By clonduffgac1887
Mon 29th Apr