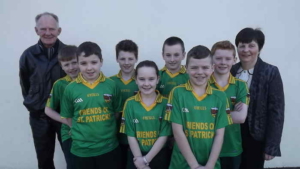 Back row (l to r): Des McNeill (School & Club Handball Coach), Shane Close, Patrick Cowan, Aidan Quinn, Paudie Harper, Mrs Cousins (School Principal), Front row (l to r): Joey O'Hare, Ellen Shields, Jamie McDonald
Many congratulations to the boys of St Patrick's Primary School who collected a massive four county primary schools titles at Saval on Saturday 1st February 2014.
U11 Singles – Patrick Cowan
U11 Doubles – Shane Close & Joey O'Hare
U13 Singles – Padraig Clancy
U13 Doubles – Jayme McDonald & Aidan Quinn
Congratulations to everybody – the new Handball Wall is beginning to pay dividends with Des' Thursday afternoon coaching sessions as well as the hard work in the Handball Alley.
Young Ellen Shields (P5) was the only St Pat's girl to compete in the Schools Co Handball Championships. She reached the Semi Final of U 11 Singles which she lost on an aggregate of 2 points. This was no mean feat as she was playing much older girls and will be eligible for this age group again for the next two years.
Two girls were also entered for the Doubles but as they were awaiting Transfer Test results were unable to attend.
The Down Champions will compete in Ulster Schools competition in Donegal in two weeks time! Great achievement!
By clonduffgac1887
Mon 29th Apr