GARY MURRAY U11 MEMORIAL TOURNAMENT 2021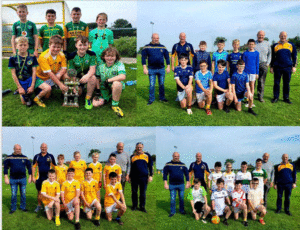 The 45th Annual Gary Murray Memorial Tournament was held in Clonduff Park on Sunday morning 5th September. In this the 45th year, due to the ongoing pandemic the tournament was played amongst our U11.5 squad. The boys were divided into 4 team representing the 4 provinces of Ireland playing in a round-robin format. After the first round of games the 2 top teams Ulster and Leinster played each other for the Cup whilst Munster and Connacht competed for the shield.
At the close of play Connacht had won the shield while Leinster won the Cup. Player of the tournament award went to Shea Murray and was presented with the Lily Murray trophy by h
is proud Granda Cathal.
Cathal Murray Jnr spoke on behalf of the Muuray family thanking all involved including the referees PJ Quinn and Kevin McGrath. Cathal also praised tHE work of the coaches with the young boys.
Shay Cowan was presented with a birthday cake on this his 12th birthday. Cathal Murray Senior and Shay both received a round of Happy birthday for their 80th and 12th birthdays respectively.
A great morning of football and community spirit at its best.