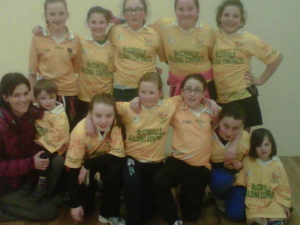 It was thought that the usual Wednesday night slot for the girls would be sufficient to have an informal handball competition. However, when it was announced that a very large Easter Egg was the 1st prize for the winner suddenly a very serious and determined mentality ensued. With each game going right to the wire and long rallies to determine each point, the girls really showed that the winter training had brought them on a great deal.
Eventually a winner emerged and it came from a very traditional Clonduff Family name (but perhaps not in handball). This year's Champion was none other than Molly Brown and she accepted her prize with mouth watering glee. All girls received Easter Eggs for all their efforts on the night and throughout the year (see picture below).
The games were played with a great spirit indicative of their off-court friendships.
Well done to all the girl participating and for their commitment throughout the year.
This was their last session until the Autumn unless some progress can be made with the outdoor one-wall court. Until then good luck with your respective Camogie and Football season which you all are about to embark upon. The handball exercise will hopefully have kept you all in good shape for the other codes within the Clonduff Club.
The U12 Girls are pictured above with supervisor Marie Cowan and some youthful supporters. Carol Curran and Bronagh O'Reilly also helped out with supervisory duties. The girls were expertly coached by Colin Shields assisted by Sean Cowan – thanks to everybody who has made a massive effort to bring Handball to the females of Clonduff and the young people in particular.
By clonduffgac1887
Mon 29th Apr