GREAT START TO THE YEAR FOR JUVENILE COMPETITIVE HURLING 2019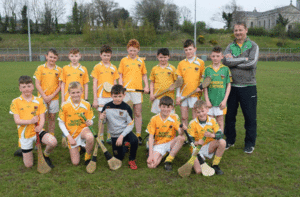 TWO WINS FROM TWO FOR U12 HURLERS AT START OF 2019
A lot of hard work has been invested in juvenile Hurling over the last few years and it is now beginning to show dividends. These U12 boys have come through the ranks and are putting into practice what they have learned and are continuing to develop.
A great gutsy performance in the second half on Wednesday evening 18th April secured the win for Clonduff lads. They had been trailing by 6 points at half time to a Liatroim/Castlewellan joint team but these young Yellas never gave up – from goalkeeper to full forward they played out of their skins. and won the game on a score line of 7-2 to 2-8.
Team: Ryan Tweedy, Lorcan Binks, Eoin McCaffrey, Ethan Kane, Ailill Morris, Eddie Clancy, Dylan McGivern, James Matthews, Sean Quinn, James Morgan, Christopher McCaffrey, Shea Morgan and Conrad Moan – the team is pictured with joint manager Eddie Clancy. Missing is the other joint manager Jim Murnin who was a bit shy about getting into the photo!