HEARTBREAK FOR SENIOR CAMOGS IN ULSTER FINAL 2017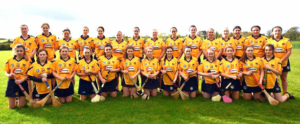 The Clonduff girls gave their all in the Ulster Intermediate Final v reigning champions Eglish (Tyrone). Clonduff led by 1 point at half time and also by a point approaching the 30 min mark in the second half. However, the champions finished strongly scoring the last 3 points of the game to win 1-14 to 2-9.
The Clonduff tured above are Back row (l to r): Karen Haughey, Fionnuala Carr, Joanne Killen, Ursula Kearney, Sara Louise Carr, Kitty Fegan, Cassie Fitzpatrick, Martina Rooney, Paula Gribben (capt), Roisin Mulholland, Orla Morgan, Shannon O'Hagan, Hannah McAteer, Niamh Fitzpatrick, Molly Brown; Front Row (l to r): Beth Fitzpatrick, Lizzie Wilson, Orlagh Caldwell, Nicola O'Hagan, Cara Boden, Katie McGilligan, Clare McGilligan, Jenna Boden, Niomhi Murray, Natasha Boyle, Ally Magee, Orla Gribben, Clara Cowan.