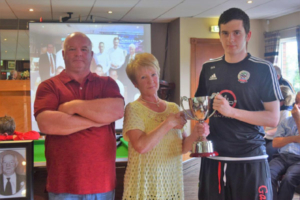 Eileen Mooney with son Sean (left) presenting the Dalsey Mooney Cup for the first time to Ryan Greenan Captain of Kilcoo on the day
Despite the weather and the late withdrawal of some teams the inaugural Dalsey Mooney Memorial Tournament was an outstanding success. Many thanks to the six teams that participated and the general opinion of those taking part was that those that weren't there missed out on a great sporting and social occasion. The six teams played in two groups – Group 1: Mayobridge, Ballymartin and Clonduff Gaels with Mayobridge and Clonduff progressing to the semi finals; Group 2: Kilcoo, Castlewellan and Clonduff Ógs with Kilcoo and Castlewellan progressing to the semi finals. Kilcoo beat Mayobridge in the first semi with Castlewellan defeating Clonduff Gaels (but only just – Clonduff led by 9 pts at the turnaround but with the experienced 'Town side playing into the bigger goals and with wind advantage they won by two points).
The final was an intense affairs between the neighbouring teams but their was no quarter asked or given by either side and in the end it was The Magpies that triumphed.
The presentations took place in the Clonduff Clubrooms following the players' meal. Chairman Jimmie Cousins thanked the teams that had braved the elements and provided a great spectacle of Sevens Football. He thanked the group that had organised the tournament, The Diamonds for the excellent foot, Eugene and Imelda Rooney for the buns and traybakes; the ladies who served the food and the kitchen and bar staff.
First presentations were made by Tommy Kelly to the three referees on the day – Eugene O'Hare, Ronan Barry and Declan Ryan. The Chairman then presented the O'Neills Vouchers to the captains of Clonduff, Castlewellan and Kilcoo – Mayobridge's will be delivered to them. Before the presentation of the Cup and medals, Mrs Eileen Mooney made a stirring an emotional address on behalf of The Mooney Family. She said it was wonderful to be among Dalsey's friends and sincerely thank Clonduff Club for organising such a wonderful tribute to him. She thanked the clubs who participated, the people who organised the tournament or helped in any way. She paid tribute to those who contributed to the excellent programme and then presented the Cup to Ryan Greenan the Kilcoo captain. Then Sean Mooney, who had travelled home from Chicago especially for the tournament, presented the medals to the winning Kilcoo team. Terry O'Hanlon, Chairman Kilcoo thanked Clonduff for the great day and the hospitality. He said that Dalsey didn't just attend Clonduff and Down games but attended other clubs' games throughout the county. He said the tournament was a very fitting tribute to a great Gael. Everybody was in agreement and the social side of the day continued with many of the players and spectators staying on to watch the Mayo v Fermanagh qualifier on the big screen.
By clonduffgac1887
Thu 9th May