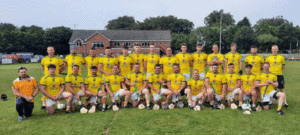 Round 1 – Clonduff 3-16 V Ballela 3-8
Clonduff opened the 2022 Intermediate Hurling Championship with a win against Ballela. The game was played at the peak of the scorching temperatures midday Sunday but this didn't deter the efforts of both teams.
Clonduff had an early goal to settle into the game but after 10 minutes Ballela were creeping their way back into the game. Assisting the Ballela cause was some wayward shooting from the home side. Given the soaring temperatures, water breaks were allowed at the quarter way mark. The second quarter of the game saw Ballela take the lead in the game with a goal of their own. Clonduff held their nerve and went in at the half time whistle level 1-6 each.
Clonduff came out in the second half with their accuracy adjusted and began to open up a gap between the side with a variation of long range and close in scores as the forwards found the space to punish the visitors. Ballela kept in touch with a goal of their own in response to Clonduff's second and again a few minutes after the Clonduff third but the gap was too big with time running out.
This Clonduff win required a full use of the panel as all 5 substitutes places.
This was the first of 3 round robin games of the championship with Carryduff up next week and Liatriom 2 weeks after that.
Team (as per photograph sporting their new training tops, sponsored by Bloomfield Formworks) Back row (l-r) Gary Coffey, Ciarán Kearney, Darragh Downey, Sean Downey, Chrissy Lynch, Shay Fitzpatrick, Rían Branagan, Paul Bloomfield, Lorcan McAteer, Darragh Fitzpatrick, Niall Quinn, John Murphy, Dylan Downey, Frank Quinn; Front row (l-r) Ken O'Brien (Manager), Bryan Rice, Jamie Lynch, Chrissy Hynes, Declan Rooney, Gavin O'Hagan, Shane Branagan, Jamie Lowry, Chris O'Hare, Rhys Ward, Chrissy Young, Lorcan Branagan, Fionnbharr Murphy
By clonduffgac1887
Mon 15th Aug