JASON IS ALL IRELAND CIC SAOR CHAMPION 2014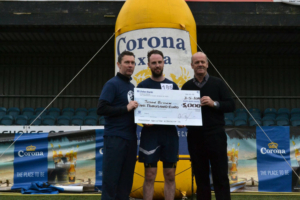 Our 2014 Club Captain, Jason Brown beat the best of the best in Ireland from Gaelic Football, Rugby, Soccer, including a number of inter-county players to claim the Paddy Power/Corona All Ireland Title in Oriel Park, Dundalk on Saturday 3rd April 2014. Jason, who took all his free kicks from the ground throughout the competition 'lost no lives' in the group stages and won his group. He was joined in the final by the other three group winners – Stephen Connolly (Ballyteague, Kildare), Packie McMullan (Kileeshil, Tyrone) and Barry O'Hare (Roche Emmets, Louth). Jason kicked brilliantly all day to claim the handsome trophy and the magnificent pay-day cheque for €5,000!
Jason is pictured with hosts Oisin McConville (left) and Jack O'Shea (Kerry). The competition, now in its third year is organised by Dundalk Young Irelands GAA Club.