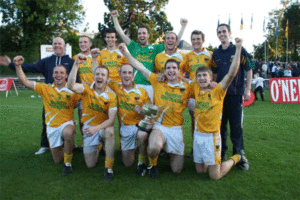 The Kilmacud Sevens Champions 2009! In their six games they scored a total of 14 goals 68 points! Back row: Benny Corrigan (Manager), Kieran Trainor (2-5), Eamon O'Reilly (2-9), Jason Brown (0-10), Conor óg O'Hagan (2-6), Darren O'Hagan (2-6), Keith Farrell (Selector). Front row: Finbarr McConville (1-7), John Fegan 3-14), Paul McConville (1-1), Aidan Carr (1-5) and John McPolin (0-5)
It was a great Clonduff day – does this mean they are the best ten club players in the country? The ten panellists all played out of their skins to achieve this great result. First up was Nemo Rangers (Cork) in the group stages and they were defeated 4-8 to 0-3; then Pearses (Roscommon) 2-11 to 3-7; and St Patrick's (Louth) 3-14 to 2-14. In the quarter final they beat Clonoe O'Rahilly's 1-10 to 0-9 and then Crossmaglen Rangers in the Semi Final 4-14 to 2-8. They had to await the winners of their local Down rivals Longstone (previous champions) v Castlewellan which the 'Stone won. What a final! It was great Sevens Football – Clonduff led 0-4 to 0-3 at half time and went on to win 0-11 to 0-8 to become Kilmacud Champions for the first time in the history of Clonduff following in the footsteps of the Camogs who secured the Shield trophy just a week earlier.
Jason Brown wore the Goalkeeper's jersey and picked up the 'Player of the Tournament' award – no mean feat when he was out of the game for most of this season having had knee surgery at the end of last season. Well done boys and to your mentors Benny Corrigan (Manager), Keith Farrell and Collie Rodgers (Selectors). Unfortunately Jason picked up a foot injury at the end of the Tournament and Aidan pulled a hamstring in the Quarter Final – hopefully they will both be available for the vital league games still remaining.
Question! Has any other club ever done the double at Kilmacud? We will attempt to find out!
By clonduffgac1887
Mon 6th May