MINI GAMES FESTIVAL OF FOOTBALL IN BURREN JUNE 2021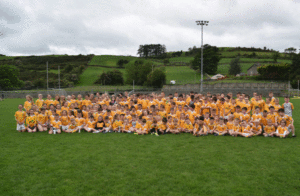 Well over 200 Clonduff girls and boys – P1 to P5 – made the short trip to Burren on Saturday morning 12th June 2021 to participate in the Mini Games Festival. It was a lovely morning in every respect! P1-P3 children started their games at 10am and had a glorious hour of football! The P4/5 youngsters arrived in time for the group photograph and then they too enjoyed a wonderful hour of football.
Apart for the fun and games, the highlight was undoubtedly having their photos taken by drone! Thanks for that Steve Gilbey!
Every child was a credit to his/her family and club – well done all!
Many thanks to Burren for hosting the event. Hopefully we will have as good a morning when Clonduff hosts the return event!