PARISH HURLING LEAGUE 2021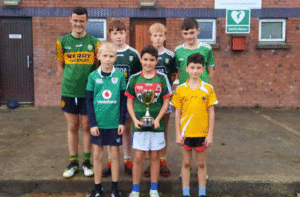 The Clonduff U11 and U13 Hurlers combined to form a 4-team end-of-season Parish League based on the four provinces of Ireland.
Former Clonduff player, Liam Boyle whose son now plays for Clonduff U13s donated the beautiful cup for the event. Saturday 16th October 2021 was the final week of the Hurling Parish League.
The boys have been playing games over the last 3 weekends. It has been a fantastic festival of hurling with the lads showing a high level of skill.
At the end of the third round of competition the Leinster team emerged as the eventual winners. Congratulations to Harry Kelly, Leinster captain and his winning team mates!