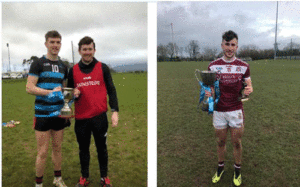 Congratulations to SRC GAA team who have just won the Corn Comhairle Ardoideachais ( All Ireland's ) in Mallow, Co Cork – Friday 15th February.
Well Done to our own Lyndon Brown (l) and Rory McGreevy (joint manager). Fantastic result – congratulations to all involved. Rory himself was a winner in 2014.
The following day Barry O'Hagan (r) was helping Hope University Liverpool to win the Corn Na Mac Leinn Cup. Barry also collected the Man of the Match Award.
By clonduffgac1887
Mon 27th May