SPORT FOR PEACE DAY IN CLONDUFF PARK 2020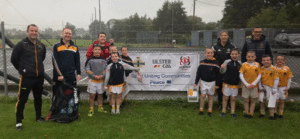 Clonduff U9.5 and U7.5 footballers took part in the Sport For Peace Day at Clonduff Park in memory of Ella Trainor and Brian McGreevy on Saturday 3rd October 2020. The programme was delivered by The #SportUnitingCommunities team at Ulster GAA, Ulster Rugby and The Irish Football Association. The idea of the programme is so that participants enjoy the coaching, the games and learning from all three sports in order to increase their  knowledge of different traditions and backgrounds.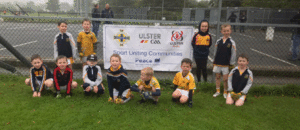 Over 100 Clonduff kids took part in what was a wonderful event despite the rain.
The weather didn't dampen the spirits as the children played in the inflatable arena, shot at the inflatable dart board, and learned to play rugby like Brian O'Driscoll.
Even the coaches couldn't resist a sneaky shot at the dart board.
When all activities were done, time was taken to remember Ella and Brian and the importance to the families that their memories are never forgotten.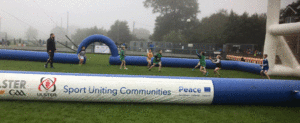 Special thanks was given to our very own Ryan McShane for co-ordinating the event in his Ulster GAA role.
A final thought was given to the challenging year we have had, which reminded us all how lucky we are to be part of a team, a club, and a community.
The club received an equipment pack to help continue the work and host similar events in the future and before departing the children all received a hot dog to warm them up, an end of season certificate and a goody bag.
​
We Are Clonduff And We Are Proud!!