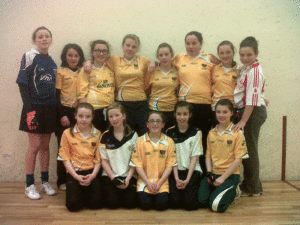 On Wednesday 7th November Twelve U12 girls became the 'Trail Blazers' for females and Handball in the Clonduff Club. Their training continues every Wednesday from 7-9pm.
Colin Shields drops in at the beginning of the session and gave a demonstration to both parents and children on the three main handball strokes. It then was handed over to the supervisors to take the remaining sessions and arrange practice games.
From next week onwards the girls will be divided into small groups for ease of management and to allow for adequate supervised practice sessions. Each small group will have 40 mins on court. The groups are listed below. More parents – Mothers or Fathers or Both – are needed to help with this age group so come along on the time which best suits please.
7:00-7:40 Supervisors: Carol Magee and A.N. Other
Ally Magee, Beth Fitzpatrick, Caitlin Harper, Ellen Lively
7:40-8:20 Supervisors: Marie Cowan and A. N. Other
Cara Boden, Molly Brown, Clara Cowan, Niamh Fitzpatrick
8:20-9:00 Supervisors: Bronagh O'Reilly and A.N. Other
Niamh Fearon, Tiarna Mullin, Shannon O'Reilly, Erin Rafferty, Amy Lowry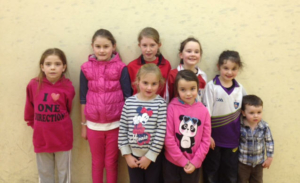 On Monday 12th November 2012 this group of young girls and James turned up for Handball Training. This is the U8/U10 group and their session is 6.30-7.30pm.
Well done girls and James. The group includes Orla and Rosie McCann, Ella McComiskey, Eveagh and Clodagh Kelly, Ellen and Blaithin Shields. The mentors for this group are Colin Shields and Des McNeill. Parents supervision: Gavin McCann, Patrick McCumisky, Kieran kelly.
By clonduffgac1887
Mon 29th Apr