TWELVE ALL IRELAND CHAMPIONS WITH DOWN CAMOGS 2020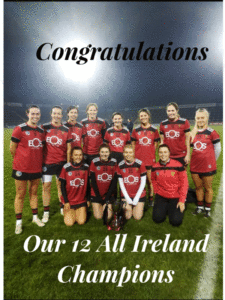 Down secured the All Ireland Intermediate Championship on Saturday 5th December in Kingspan Beffini Park, Cavan for the first time since 1998!
Clonduff supplied no less than twelve girls to the panel, including Joint Captain Fionnuala Carr who is in her 22nd year playing inter-county Camogie! And she has a lot more left to give! She was the key player in the Down Backs showing her great skills and leadership to the full.
Antrim got the best possible start and had the ball in the back of the net within the opening minute but the Down girls stuck to their task none more so than Paula O'Hagan who sent over some magnificent long range points including 2 x 45s and 3 other frees one of which was more than 50m out. Sara Louise Graffin was also on fine form and scored 1-3.
At the first half water break Antrim led by a point 1-2 to 0-4 but Down turned it around in the next quarter to lead at the break 1-8 to 1-5. However, Antrim again started very well after the break and a goal and a point put them ahead. Down quickly regrouped and dominated possession and play to lead 3-13 to 2-7 at the water break.
Down were in a strong position going into the last quarter of the game. Antrim needed goals to get back into the game but only managed 3 points from frees. Clonduff youngsters Clara Cowan and Beth Fitzpatrick gave masterful performances belying their youth. Both were subbed near the end of the game which by that stage was safely in the bag for Down. Down used three subs on the day including Cassie Fitzpatrick and Isabella O'Hare.
Final score Down 4-16 Antrim 2-10
There were jubilant scenes among the Down people lucky enough to be in Breffni Park as joint captains Fionnuala Carr and Karen Mc Mullan lifted the Jack McGrath Cup.
Clonduff Panellists: Fionnuala Carr, Paula O'Hagan, Sara Louise Graffin, Clara Cowan, Beth Fitzpatrick, Cassie Fitzpatrick, Isabella O'Hare, Erin Rafferty, Jenna Boden, Clare and Katie McGilligan, Orla Gribben – three sets of sisters Fionnuala & Sara Louise; Beth & Cassie' Clare & Katie.