TWO COUNTY 'PLAYER OF THE YEAR' AWARDS FOR DARREN 2015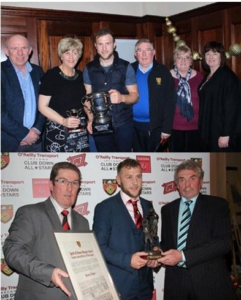 Darren O'Hagan was the recipient of two awards, towards the end of 2015, as the County 'Player of the Year'. On Thursday 26th November he was selected as Down Supporters Club 'Player of the Year'. Just over a week later (Friday 4th December) he was awarded the 'Spirit of Breen Morgan' during the Down All Stars Awards.
(Top) Darren with his parents Conor and Annette and Clonduff Down Supporters Tommy Kelly, Patricia Kelly and Marie Milligan.
(Bottom) Darren receiving Spirit of Breen Morgan from Benny McArdle (r) former Annaclone and Down Player, and Co Chairman Sean Rooney