U12B FOOTBALLERS SECURE DIV 3 LEAGUE 2019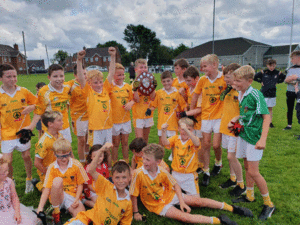 On Sunday morning in St Michael's Magherlin saw our U12B team looking for just one point to clinch the Division 3 league title! The boys played very well in the first half against a fast improving St Michael's team!
Curtis Porter scored a very important goal just before half-time to give us a 5 point cushion at the break! U10 player Eoin Crosbie was outstanding in defence in the first half along with Sean Quinn and Daniel McCumiskey. When th second half started Clonduff really started to get into their stride and a brilliant move down the field saw Caolan McClean finish low and hard to the net. This was enough to get the boys finally over the line and seal the victory.
This U12B team have made great progress all year developing their skills and learning how to play as a team in a game environment. A huge effort and thanks to all players, coaches and especially parents for their encouragement and support in driving the boys forward.
Clonduff as a club are very proud of this team for their effort to becoming senior footballers in the not too distant future!!