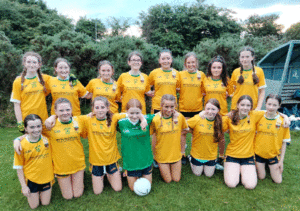 On Wednesday evening 3rd August, Clonduff U14 development team had a hard fought but deserved win against a tough St Michael's team.
After a tough start to the year the girls have really turned things around and their hard work in training is paying off – they have won all their games since the resumption after the holiday break. Great performance by every girl and they got a deserved win.
Team from photo: Back row (l-r) Hannah, Ava, Blaithnaid, Ciara, Cliodhna, Katie, Ruby, Ellen. Front row (l-r); Annie, Mary Kate, Sophie, Mia, Alannah(capt), Ellie May, Sophie, Mia.
By clonduffgac1887
Sun 7th Aug